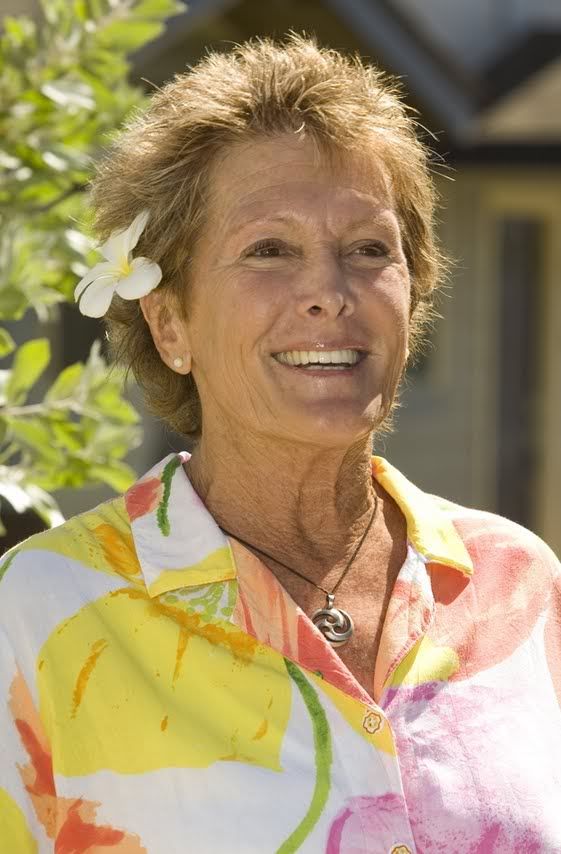 Emily T Gail Show - ESPNHawaii.com Exclusive
Email: emilytgail@emilys.org
Emily T Gail is a former resident of Detroit, Mich. and now resides in West Hawaii. Emily keeps herself active in many different activities, including real estate, golf, outdoor sports, and of course, her radio show! The show's focus is on local events, from fundraiser golf tournaments to marathons, gymnastics to swimming, and everything in between! Every once in a while, you will also hear Emily head back to her hometown to speak to people in the Detroit sports scene!
Log on every Saturday as a new episode will be posted, commercial free!
---

Emily's Show Sponsors and Supporters include:
Waiaha River Coffee Company
808 Computers
Aloha Visitor Guides
Waikoloa Beach Resort
Bike Works Kona & Bike Works Beach & Sport
---
>> Emily T Gail Show Online
Emily T Gail Show (November 21) - Grant Miller, co-owner of Bike Works Beach & Sport, Bike Works Kona, and Kona Beach & Sport talks about how the Bike Works team has, for over 25 years, enjoyed introducing visitors and locals to wonderful recreational biking and outdoor activities.
Emily T Gail Show (November 7) - Barb Garcia, Publisher of Ke Ola "The Life" Magazine, and Emily talk about The Waimea Ocean Film Festival, which is coming up from January 1-8 and how much the wide variety of films fulfills the festival mission, which is to bring a greater understanding of the ocean environment and island culture and build awareness that everything we do on land affects the sea and the people whose livelihood and subsistence depends on the health of the ocean environment.
Emily T Gail Show (October 31) - Bill Trumbo, Konawaena High School Athletic Director, and Bobbie Awa, Konawaena Girls Basketball Coach, talk about the Konawaena Wildcats and the school that has served South Kona since 1921. They share their gratitude for the alumni and loyal fans of Konawaena when hosting fundraiser events, such as "Cats to the Capital" and the Wildcat Golf Challenge.
Emily T Gail Show (October 24) - Bette Green, Friends of the Library-Waikoloa Region (FLWR), shares information on the 5k Walk-Run for Literacy and Silent Auction on Saturday, November 14, 2015 in Waikoloa Village. Funds raised goes towards the campaign to build a library in Waikoloa Village, ongoing scholarships, sponsorship of the Newber​r​y Quiz ​Bowl, and much more.
Emily T Gail Show (October 17) - Josh Silliman, Director of Golf Mauna Kea Resort, talks about GolfBoards. The easy to use, individually operated alternative to golf carts carries your clubs and allows the golfer to navigate the board, much like surfing or snowboard​ing.​ Emily also has information on the Dennis Rose Invitational at Waikoloa Beach Resort, Waikoloa Library Run, Konawaena Wildcats "Cats to the Capital" 3-on-3 fundraiser, and Wildcat Golf Challenge at the Club at Hokulia.
Emily T Gail Show (October 10) - John and Judy Collins, co-Founders of the Ironman, and their son, Michael, talk about the early days of Ironman and their own experiences as participants. Emily, who was one of 22 females who completed Ironman in 1981, and the Collins reflect on the impact the sport has had on recreational athletes all over the world.
Emily T Gail Show (September 19) - Tara Revyn in Detroit waited 10 years for a bone marrow transplant, which she received from a 35 year old stranger from Hawai'i. She had myelodysplastic syndrome, is Korean, and was adopted, so her family members are Caucasian. Without known blood relatives, she turned to the Be the Match Registry. Tara tells her story and explains how easy and painless it is to perhaps save a life by responding to a bone marrow drive.
Emily T Gail Show (September 12) - Chick Kunitake reflects on the Daniel Sayre Foundation and the efforts to raise funds for purchase of Hawai'i Country Fire Department rescue equipment, and also looks back at the help he got as a Konawaena athlete in the 1950's.
Emily T Gail Show (September 5) - Vivian Fususho Nozaki looks back on when she and her husband, Alan, were race directors of the Hilo to Volcano Ultra and Relay Run and the Saddle Road Hilo to Waimea run in the 1980's and 1990's. She share how grateful they were for the volunteers and sponsors that helped them.