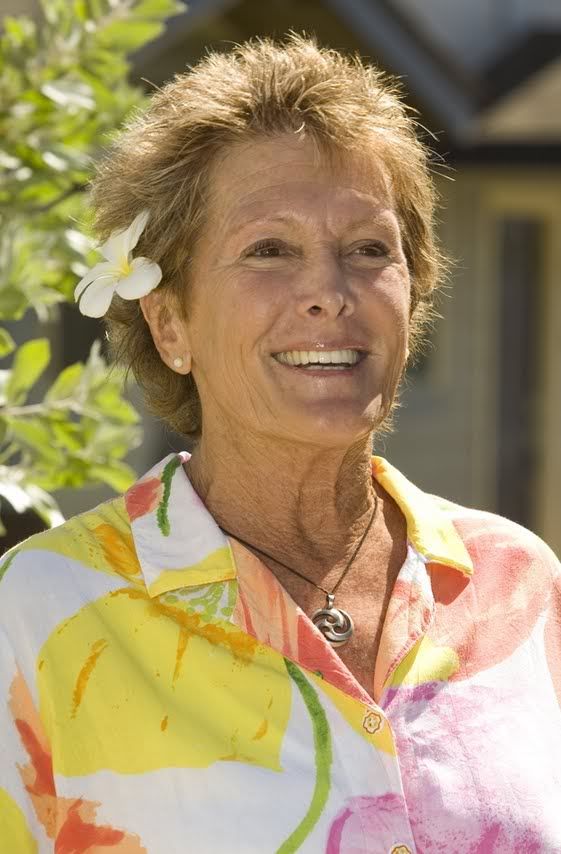 Emily T Gail Show - ESPNHawaii.com Exclusive
Email: emilytgail@emilys.org
Emily T Gail is a former resident of Detroit, Mich. and now resides in West Hawaii. Emily keeps herself active in many different activities, including real estate, golf, outdoor sports, and of course, her radio show! The show's focus is on local events, from fundraiser golf tournaments to marathons, gymnastics to swimming, and everything in between! Every once in a while, you will also hear Emily head back to her hometown to speak to people in the Detroit sports scene!
Log on every Saturday as a new episode will be posted, commercial free!
---

Emily's Show Sponsors and Supporters include:
Waiaha River Coffee Company
808 Computers
Aloha Visitor Guides
Waikoloa Beach Resort
Bike Works Kona & Bike Works Beach & Sport
---
>> Emily T Gail Show Online
Emily T Gail Show (February 5) - Professional golfer Sean Maekawa from Honoka'a shares his story. He was in the Waikoloa Junior Golf Program as a keiki and earned a golf scholarship at the University of Oregon under Coach Casey Martin. He had the opportunity to play in the prestigious Amer Ari Intercollegiate Tournament in Waikoloa before turning professional.
Emily T Gail Show (January 25) - Becky Ryan, Waikoloa Beach Resort Kings' and Beach Course, talks about Family Golf Days, King's Club Memberships, and the 25th Amer Ari Intercollegiate Golf Tournament at the Kings' Course with top Division I teams, competing February 3-6. Past participants include Tiger Woods, Jordan Spieth, Notah Begay, Matt Kuchar, and Anthony Kim.
Emily T Gail Show (January 22) - Pete Rolfing, Dave Senko, and Kris Hazard talk about the PGA TOUR Champions Mitsubishi Electric Championship at Hualalai, held January 19-23 and broadcast on The Golf Channel. Pete's PCR Sports handles the operational side of the tournament. Dave is the PGA TOUR Champions Media Official, and Kris is Co-Chair with Larry Webb organizing over 400 volunteers for the event.
Emily T Gail Show (January 13) - Earl Regidor, minister and kahu at the Four Seasons Resort Hualalai, talks about the Mitsubishi Electric Championship at Hualalai, held January 19-23, and how the tournament has given him an opportunity to interact and share Hawaiiana culture and history with the Champions Tour players and their families. Emily has updates on the Bike Works Kona CTR Swap Meet, Waikoloa Beach Resort Kings' Course Amer Ari Intercollegiate, and much more.
Emily T Gail Show (December 26) - Joe Reynolds, Chair of the Elks National Hoop Shoot Competition in Kona since 1987, has information about the free throw shooting competition, held on Saturday, Jan. 9 at Kekuaokalani Gym in Kailua-Kona. Joe also shares some stories about his life as a high school, college, and semi-pro referee and officiating instructor.
Emily T Gail Show (December 19) - Tania Howard gives an overview of the Waimea Ocean Film Festival, held January 1-4 in Waimea. It showcases over 60 films, speakers, filmmakers, exhibits, breakfast talks, and more.
Emily T Gail Show (December 12) - Kevin Ginoza, PGA Director of Golf at Waikoloa Beach Resort, talks about the commitment to foster family and junior golf. Nancy Cross, Executive Director of the Hyundai Tournament of Championship on Maui, shares information on activities and players, like Jordan Spieth, Jason Day, and Rickie Fowler. And Kelly Fliear, Tournament Manager of the Mitsubishi Electric Championship at Hualalai, talks about the players, money raised for Big Island non-profits, volunteer effort, and ticket information.