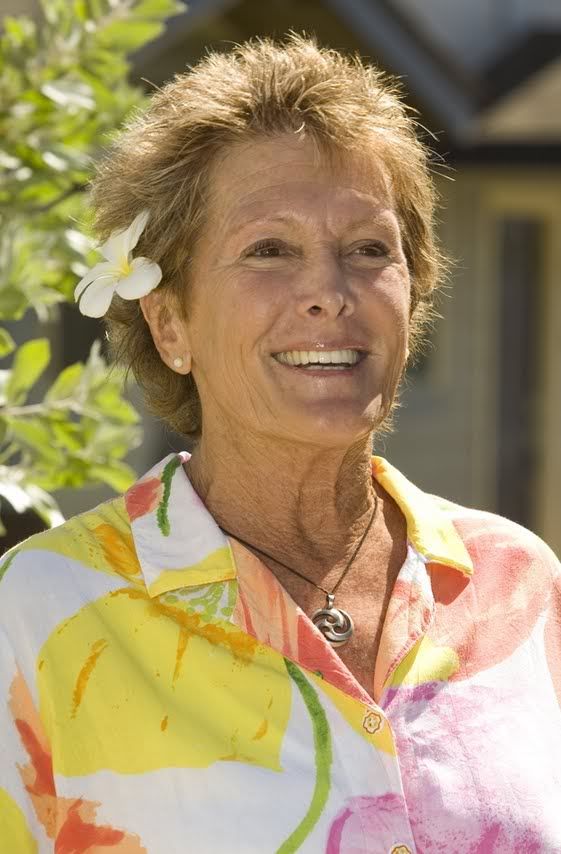 Emily T Gail Show - ESPNHawaii.com Exclusive
Email: emilytgail@emilys.org
Emily T Gail is a former resident of Detroit, Mich. and now resides in West Hawaii. Emily keeps herself active in many different activities, including real estate, golf, outdoor sports, and of course, her radio show! The show's focus is on local events, from fundraiser golf tournaments to marathons, gymnastics to swimming, and everything in between! Every once in a while, you will also hear Emily head back to her hometown to speak to people in the Detroit sports scene!
Log on every Saturday as a new episode will be posted, commercial free!
---

Emily's Show Sponsors and Supporters include:
Waiaha River Coffee Company
808 Computers
Aloha Visitor Guides
Waikoloa Beach Resort
Bike Works Kona & Bike Works Beach & Sport
---
>> Emily T Gail Show Online
Emily T Gail Show (March 21st) - Dick Mudry, long time golf writer who has covered the PGA TOUR, Champions Tour and LPGA for over 30 years, talks about the NBC/Golf Channel special "Arnie and Me" with stories from Arnie's fans. Dick, a longtime friend of Arnold Palmer, shares his own stories and Emily has some of her own from when Arnie played in the Mauna Lani Senior Skins in the 90's and later in the Mitsubishi Electric Championship at Hualalai.
Emily T Gail Show (March 14th) - Rich Bell of Bikeworks Beach and Sports at Queens Marketplace talks about the upcoming Lavaman Weekend, happening March 27-29 at Waikoloa Beach Resort, as well as other events. And, Carl "Gecko" Ko'omoa of teammangoraces.com looks back at the success of Team Mango events and the participation by all levels of athletes and the community support he gets for Team Mango events, including the upcoming Sunday, April 26 Captain Cook Challenge.
Emily T Gail Show (February 21st) - From the Mitsubishi Electric Championship at Hualalai, David Marr III of NBC/NBC Golf comments on The Golf Channel documentary "Uneven Fairways," and shares a story about his dad, David Marr, who won the 1965 PGA Championship. Carol Connor reviews "Evita" at Aloha Theatre, which runs till March 15. Winona Chen of Kona Beach and Sports gives information about Bikeworks Beach & Sport and Waikoloa Lavaman weekend events next month.
Emily T Gail Show (February 7th) - Jim Thorpe, Champions Tour golfer, weighs in on the Golf Channel documentary called "Unevened Fairways," celebrating African-American contributions to golf and its challenges. Dave Marr III of NBC Golf comments as well. Emily reflects on Black History Month and has talks about Shinola Detroit, City Bird and Run Detroit in Midtown, Detroit Slow Roll, and more.
Emily T Gail Show (January 31st) - Kevin Ginoza, Head PGA Pro at Waikoloa Beach Resort, talks about the top rated 24th Amer Ari Intercollegiate Golf Tournament at Waikoloa Kings. Titan Oshura, the youngest at 13 to make the cut in the Mauna Lani Resort Hawaii State Open, shares why he likes golf. Jeff Manzo of Bikeworks Beach & Sport shares information on the Waikoloa Village First Friday Bike Ride. And, Emily shares how you can play a round of golf with Tom Watson for a specific donation to the Boys to Men Mentoring program.
Emily T Gail Show (January 24th) - Detroiter Jack Berry, Michigan Golf Hall of Fame member, weighs in on the Mitsubishi Electric Championship at Hualalai, Detroit sports teams and much more. Chick Kunitake shares why he loves being a spectator at the Mitsubishi Electric Championship at Hualalai