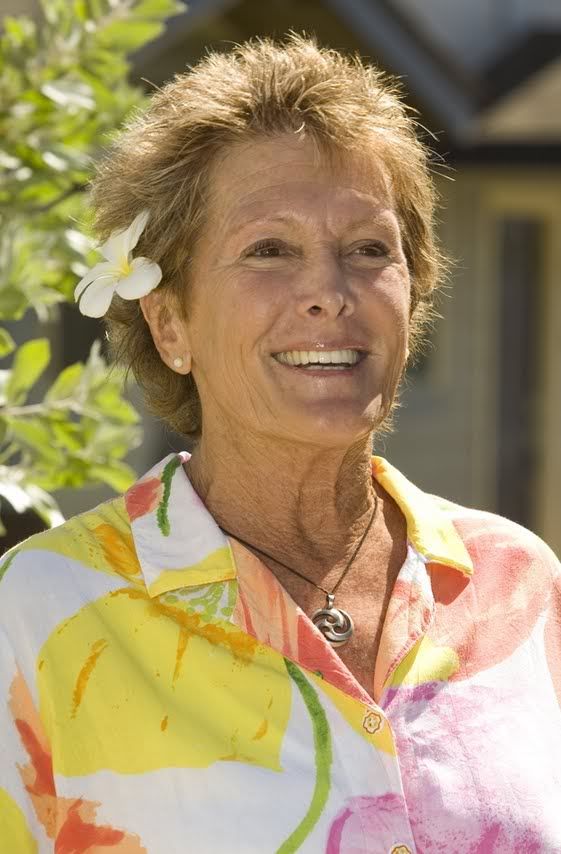 Emily T Gail Show - ESPNHawaii.com Exclusive
Email: emilytgail@emilys.org
Emily T Gail is a former resident of Detroit, Mich. and now resides in West Hawaii. Emily keeps herself active in many different activities, including real estate, golf, outdoor sports, and of course, her radio show! The show's focus is on local events, from fundraiser golf tournaments to marathons, gymnastics to swimming, and everything in between! Every once in a while, you will also hear Emily head back to her hometown to speak to people in the Detroit sports scene!
Log on every Saturday as a new episode will be posted, commercial free!
---

Emily's Show Sponsors and Supporters include:
Waiaha River Coffee Company
808 Computers
Aloha Visitor Guides
Waikoloa Beach Resort
Bike Works Kona & Bike Works Beach & Sport
---
>> Emily T Gail Show Online
Emily T Gail Show (November 28) - Tania Howard, Waimea Ocean Film Festival founder and director, gives a preview and overview of the event, which runs from Jan. 2-5 in Waimea, Mauna Kea Resort, and The Fairmont Orchid, and Jan. 6-10 at the Four Seasons Resort Hualalai. Emily talks about Ke Ola Magazine and current issue stories on the Hokule'a Worldwide Voyage, the Mokupapapa Discovery Center, and Recycle Hawai'i: Promoting Reuse in a Big Way.
Emily T Gail Show (November 21) - Jack Berry has covered over 100 major golf tournaments. He reflects on the life of Arnold Palmer, who he first covered in the 1950's, and shares stories from the 1945 Detroit Tigers World Series win over the Chicago Cubs. Wendy Rose Bice and Gail Greenberg share how the Jewish Historical Society of Michigan is involved in bringing the current "Chasing Dreams Baseball and Becoming American" exhibit to the Detroit Historical Museum.
Emily T Gail Show (November 7) - Jordan Ropp, Waikoloa Assistant Pro, talks about the 1st Annual Hawai`i Island Golf Club Team Championship at Waikoloa Kings'. Becky Ryan, Waikoloa Marketing Administrator, has updates on the Kings' Club, multiple round packages, and family golf days. University of Hawai`i at Hilo Women's Golf Team members Andi Igawa, Keely Kitamura, and Coach Jim DeMello comment on hosting the Dennis Rose Invitational, and Kiley Nakagawa talks about Mai Grille and his five-year-old son Blake's enjoyment and progress with golf.
Emily T Gail Show (October 25) - Lisa Nuszkowski, Executive Director of Detroit Bike Share, talks about the Downtown Detroit Partnership and DTE's recent Open Streets Detroit, an initiative to reclaim public space by temporarily transforming streets into paved parks and public spaces. She comments on Detroit's soon-to-be Bike Share and the new Kailua-Kona Bike Share. And, Emily comments on the commonality of recreational activities in Detroit and Hawai`i and talks about Slow Roll Detroit.
Emily T Gail Show (October 6) - Alex Candelario of Big Island Bike Tours talks about the Waimea Bike Fest at Anna Ranch in Waimea on Sunday, Oct. 30. Ironman co-founders John and Judy Collins share stories and feelings from when they created the first Ironman. Emily shares stories from the perspective of a participant in 1982 and race consultant for many years.
Emily T Gail Show (October 3) - Emily and Dick Mudry, longtime golf writer and friend of Arnold Palmer's, share their feelings upon hearing Palmer passed away. Dick shares some of his personal stories with Arnold going back to the 1960's and comments on the impact Arnold Palmer has had across the world. Emily shares stories from the 90's when Arnold played in the Mauna Lani Senior Skins each year and the MasterCard Championship at Hualalai.