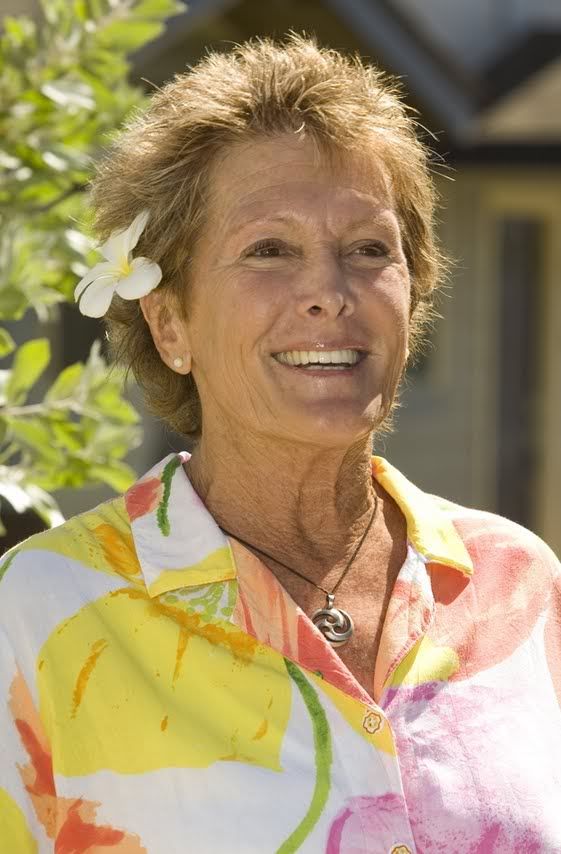 Emily T Gail Show - ESPNHawaii.com Exclusive
Email: emilytgail@emilys.org
Emily T Gail is a former resident of Detroit, Michigan, and now resides in West Hawaii. Emily keeps herself active in many different activities, including real estate, golf, outdoor sports, and of course, her radio show! The show's focus is on local events, from fundraiser golf tournaments to marathons, gymnastics to swimming, and everything in between! Every once in a while, you will also hear Emily head back to her hometown to speak to people in the Detroit sports scene!
Log on every Saturday as a new episode will be posted, commercial free!
---

Emily's Show Sponsors and Supporters include:
Waiaha River Coffee Company
808 Computers
Aloha Visitor Guides
Waikoloa Beach Resort
Bike Works Kona & Bike Works Beach & Sport
---
>> Emily T Gail Show Online
Emily T Gail Show (November 23rd) - Sue McCord talks about the Waikoloa Village Canoe Club at Anaehoomalu Bay at Waikoloa Beach Resort and their recreational ohana paddling for guests and members. Emily also shares updates on the traditional Detroit Thanksgiving Day Parade, Turkey Trot, Detroit Lions game, Whole Foods Detroit, and the PATH Adult Safety Classes with Rich Bell & Elle Sumic this Friday.
Emily T Gail Show (November 16th) - Elle Sumic of BikeWorks Beach & Sport shares how seeing her first Ironman as a keiki in Hawi in 1982 has shaped her life as a triathlete and community member. Richard Eckert and Max LaFortune of BikeWorks also join in. Diane Rivas talks about the Mauna Kea Polo Club Carlos Rivas Memorial Polo Tournament to benefit Hospice on Sun., Dec. 1 at Waiki`i Polo Field in Waimea.
Emily T Gail Show (November 9th) - Jeff Manzo of Bike Works Beach & Sport has information on the First Friday Waikoloa Village Night Ride, taking place Dec. 6 at 8:30 p.m. Emily talks about the Mauna Kea Polo Club events every Sunday afternoon at Waikiki Ranch, the Waikoloa Beach Kings' and Beach Course and Mauna Lani Golf Course Thanksgiving Golf specials for Kama'aina.
Emily T Gail Show (November 2nd) - At the Dennis Rose Intercollegiate Division II Golf Tournament at Waikoloa Beach Resort, the UH-Hilo Golf Team (Coach Ron Takahashi) took the team title, medalist (Chris Shimomura), and runner up (Corey Kozuma) honors. We hear from Chris & his mom Elsie, Corey & his mom Roxanne, Coach Earl Tamiya, Waikoloa PGA Pro Kevin Ginoza and others. The UH-Hilo women tied for 2nd. Emily shares info on the PATH Monthly Adult Safety Classes in Waikoloa Village beginning Nov. 29.
Emily T Gail Show (October 26th) - Dick Mudry, who has covered the PGA, LPGA & Champions Tour and was the writer for the August National Masters Annual for many years, talks golf. Earl Tamiya, University of Hawai`i at Hilo men's golf coach, has updates on the Division I Intercollegiate Tournament in February at Waikoloa Beach Resort. It kicks off with the College-AM Fundraiser Feb. 5 at Kohanaiki. Emily has updates on Bike Works' activities, Mauna Kea Polo Club Sunday events at Waiki'i Ranch, and more.
Emily T Gail Show (October 19th) - Ellen Hill Zeringue, Vice President of Marketing with the Detroit Tigers, just before Game 4 of the ALCS in Detroit. She talks about how she has been able to create opportunities for more women to work with major league sports teams like the Detroit Tigers. Emily shares information on the Dennis Rose Intercollegiate Division II Golf Tournament at Waikoloa Beach Resort, held Oct. 27-29, and the Mauna Kea Polo Club Season at Waiki'i Ranch Polo Field, held every Sunday.
Emily T Gail Show (October 12th) - This week's guests include Andy Potts, top American triathlete at last year's Ironman, and Charita Capers, Edlin Flores, LIFEPROOF and others at the ASICS House at Ironman. John and Judy Collins, co-founders of Ironman in 1978, along with their son Michael, share stories with John DeGroote, West Hawaii Today, and four-time Ironman finisher Lotus Golden. Dinah Kunitake of Waiaha River Coffee shares information on the Holualoa Art & Coffee Stroll and Alii Drive Miracle Mile Run.