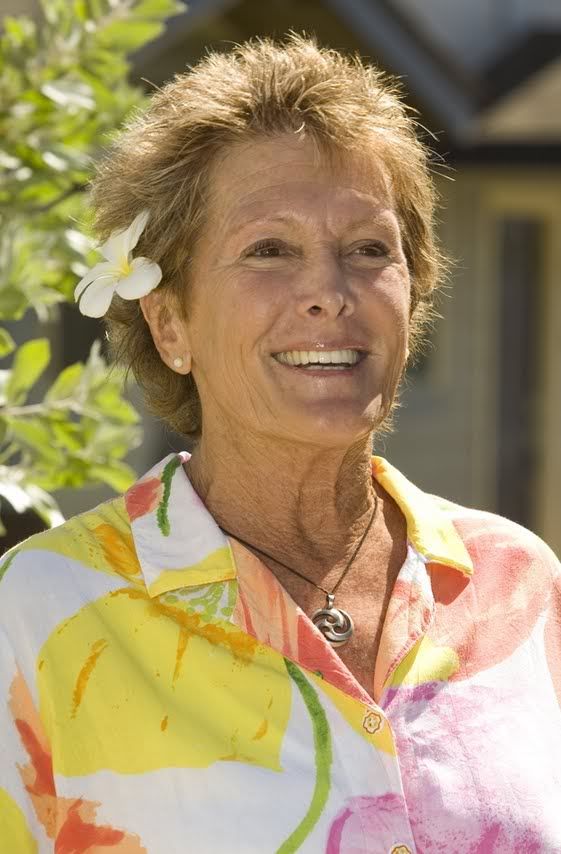 Emily T Gail Show - ESPNHawaii.com Exclusive
Email: emilytgail@emilys.org
Emily T Gail is a former resident of Detroit, Mich. and now resides in West Hawaii. Emily keeps herself active in many different activities, including real estate, golf, outdoor sports, and of course, her radio show! The show's focus is on local events, from fundraiser golf tournaments to marathons, gymnastics to swimming, and everything in between! Every once in a while, you will also hear Emily head back to her hometown to speak to people in the Detroit sports scene!
Log on every Saturday as a new episode will be posted, commercial free!
---

Emily's Show Sponsors and Supporters include:
Waiaha River Coffee Company
808 Computers
Aloha Visitor Guides
Waikoloa Beach Resort
Bike Works Kona & Bike Works Beach & Sport
---
>> Emily T Gail Show Online
Emily T Gail Show (June 24) - Grant Miller of BikeWorks talks about a lot of topics, including the evolution of mountain biking with the Specialized Turbo Levo pedal assisted electric mountain bike, which he calls a great equalizer for all levels of riders.
Emily T Gail Show (June 7) - Scott Pratt, Chief of Southern Field Operations for Michigan DNR, and Linda Walter, Director of the Outdoor Adventure Center in Downtown Detroit, talk about recreational opportunities in Michigan and Detroit. Linda shares all of the activities the OAC offers for all ages from fishing to free "Wild about Wednesday" events. They comment on the INDYCAR Chevrolet Belle Isle Detroit Grand Prix that has been so important to the Motor City.
Emily T Gail Show (May 31) - Joe Maher, long time Detroit Tigers fan and baseball historian, talks about the history of the Negro League, Jackie Robinson, and the integration of African-American and persons of all colors into MLB over the years on the field and in the front offices.Also, Emily talks about Ellen Hill Zeringue, the first woman and African-American to serve as the Detroit Tigers Vice President of Marketing.
Emily T Gail Show (May 24) - Emily shares conversations from USGA qualifying at Hokulia with Nanea Assistant Professional Chris Keiter, a medalist in the event, and his caddy, Beth McParland, Kohanaiki Assistant Professional Hunter Larson, who was the 2nd medalist, and his caddy, Rob McGuekin, and 1st alternate Dalen Yamauchi, along with dad Wayne. Also on the show are 14-year-old Titan Oshura and his caddy, Chuck Lepley, Hokuli'a Head PGA Professional Darren Sayre, and HSJGA's Mary Bea Porter King.
Emily T Gail Show (May 18) - Scott Head, Vice President of Resort Operations at Waikoloa Beach Resort, gives an overview of the recreational activities in Waikoloa, including the recent Lavaman Waikoloa, Bike Works Sunset Run, the Bikeworks Cinco De Mayo Swim and the Hawaii Visitor Industry Charity Walk/Run. Scott shares information about Waikoloa condo owners Kings' Club Membership amenities, including the discounted golf rates for guests who might be renting the Kings' Club member units.
Emily T Gail Show (April 21) - Jessica Young has information on Ka Hale O Na Keiki Preschool's Golf Tournament to fund a new swing set. Sue McCord has updates on the Waikoloa Lions Club's golf fundraiser at the Waikoloa Village Golf Course. Kelly Hudik of the Hawai'i County Elderly Recreation Office talks about the Big Island Candies Foundation Big Island Senior Golf Tournament at Waikoloa Beach Resort Kings' Course. And, Emilyshares a conversation from 2014 with Bull Bullard, a member of the Harlem Globetrotters, who are currently on their Hawai'i tour.
Emily T Gail Show (April 6) - Dick Mudry, longtime golf writer, including many years as the copy writer for the Masters Annual produced by Augusta National, weighs in on the Masters, his friend Arnold Palmer and the Arnold Palmer Invitational, the PGA Tour, PGA Tour Champions, LPGA Tour, and MLB news. Emily shares updates on multi-sport and golf activities, including the daily Waikoloa Beach Resort Kings' Course Family Golf Days.